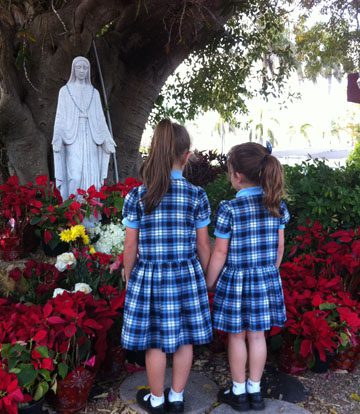 Motto
St. Agatha Catholic School: Christ-centered, Academic Excellence
Mission Statement
St. Agatha Catholic School collaborates with our families to provide Catholic formation of students through Christ-centered, academic excellence.
Vision Statement
Our vision at St. Agatha Catholic School is to provide a meaningful education that prepares our students for life-long learning, leadership, and service as contributing members of our country, church and community.
Graduate at Graduation Statements
St. Agatha graduates continue to build their relationship with Christ through community and parish service.
St. Agatha graduates continue to nurture their thirst for knowledge by recognizing their talents and working to achieve their potential.
St. Agatha graduates continue to nurture the lifelong friendships established at our school.
St. Agatha School Believes:
1. In establishing daily Christian values of discipline, love and respect that are essential in a successful society.
2. Catholic traditions directly foster the student's moral development allowing the student to integrate Catholic faith and values.
3. That parents are the primary educators, who collaborate with the administration, faculty, and parish community as part of an interconnecting puzzle that molds and educates each student.
4. Fundamental academic skills serve as a foundation for student success.
5. As critical thinkers, the students synthesize and apply knowledge to real-life situations.
6. A safe and accepting atmosphere is necessary for the development of each student's unique gifts and capabilities.
7. A positive self-image and healthy self-esteem promote individual growth and development while facilitating positive relationships within our community and moreover in society.
8. In creating an environment in which all children, including children with learning variances, participate fully in a community of faith and learning.
9. In the effective and ethical use of technology and scientific knowledge.
10. Multi-cultural education fosters a greater understanding and tolerance of differences in people, religions, and cultures.